Barney Kessel (
1923 – 2004
) is one of those players that millons have heard, yet few would recognise. At least they think they don't recognise him. You know the intro to
Wouldn't It Be Nice
, right? Y'know,
"jingle, jingle, jingle, etc"
? That's Barney. Those cool licks in Julie London's
Cry Me A River
? That's Barney. The riff on

I've Got
You Babe

by Sonny & Cher? That's Barney.

Barney Kessel was one of the first post-Charlie Christian bebop guitarists to make big waves on the jazz scene. He appeared on records by Charlie Parker, Ella Fitzgerald, Sonny Rollins and Billie Holiday. He also held the notoriously high-tempo
guitar chair
in the Oscar Peterson Trio during the early 1950s. In parallel to this, he recorded albums under his own name, featuring selections from the Great American Songbook reworking in his own unique style.


In the 1960s, he found steady work as an in-demand session guitarist in the Los Angeles
recording world. It is there that he worked on dates for The Monkees, Phil Spector and The Beach Boys. In the 1970s, he presented seminars on the art of guitar playing and even ran his own guitar shop in L.A. for a time.

What I really like about Barney
's jazz playing
is that, while it is sophisticated and complex, he stills retains a great respect for the melody. This is especially true of his intrepretations of popular tunes, where he combines piano-like block chords and elegant single lines into an original presentation of the standard. By doing this, he keeps the songs fr
esh with inventive embellishments. Listen to his version of that old chestnut,

Misty

.
While Barney should be remembered as an innovative jazzer, his contribution to the popscene of the 1960s is worth considering too. He is a class act, worth further investigation.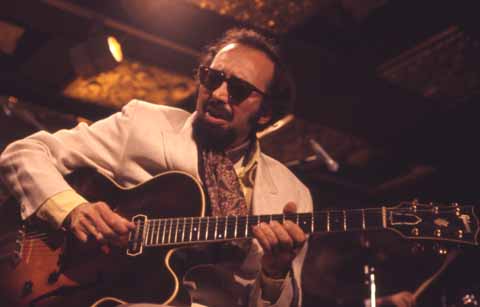 Recommend Listening:
The Poll Winners (1957)

http://www.allmusic.com/cg/amg.dll?p=amg&sql=10:wxfpxqrgldde


Some Standout Barney Tracks
: Satin Doll, A Foggy Day, Love Is Here To Stay